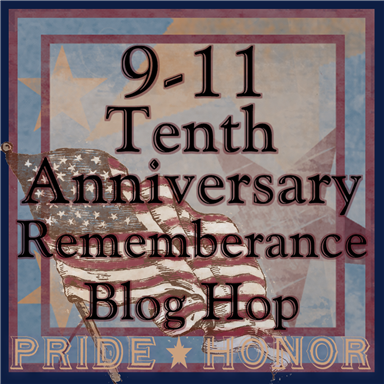 Welcome to a blog hop devoted to the remembrance of the 10th anniversary of the Sept. 11th.
The terrorist attack against our nation, which happened a decade ago, is a long time for some. However for many, the day feels all too close. The deeply seared memories of the human sufferings and acts of heroism, which took place on that day, changed our nation.
The nation was in shock when terrorists decided to hijack our airplanes and turn them into weapons. It was beyond anyone's belief that something so horrific could happen on our own soil. It would be one thing if it were just the destruction of the Twin Towers or damage to the Pentagon and a field in Shanksville, PA, but almost 3,000 people perished from the attack, leaving a scar on the soul of America.
Americans came together as one, in the emotional aftermath of 9-11. We were united by grief, had compassion for those who died along with their families, and showed loyalty to our country.
Please join the country in a moment of silence on Sunday morning, at 8:46 (Eastern Time). This should be a time to reflect on what we all lost, as well as on the courage and common purpose that lived and still resides, deep within the American people.
10 of us blogging friends would like you to join in this day of remembrance, by stopping by each blog to see a project made for the tenth anniversary of 9-11.
If you get lost along the way, here is the lineup:
On the morning of September 11, 2001, I was only a week into my new job as a teacher in Central New Jersey. My fiance' and I lived with my son, in Staten Island. We had only recently moved in together as a blended family. He was and is the love of my life. My commute each morning took me over the Outerbridge Crossing and into NJ. My son, Justin, was 6. Fortunately, and with God's great hand in all things, he was permitted to go to my school in NJ, even though we lived in NY. It was about 8:11 AM the morning of September 11th and I just had spoken to my fiance', Joe, who worked in the second Tower. I told him to have a great day at work and that I loved him. He said the same. Then I went out on hall duty. Once my homeroom began at 8:30, it was business as usual. About 20 minutes later, a secretary rushed into my classroom to tell me that a plane had crashed into the Twin Towers. I went numb. My knees felt weak. It felt like slow motion walking to my cell phone and dialing the numbers to his phone. No dial tone. No ring. All circuits were busy.
Through God's grace, I made it through those next few hours with a class full of first graders keeping my mind and hands busy. My son was there in school with me safe. Three hours later, and I still had no answer on whether or not Joe was alive. By three o'clock that afternoon, the secretaries called me into the office. Joe was on the phone. He was ok, safe. He had felt the first tremor of the plane strike and instinctively yelled for everyone to evacuate. They listened to him, thank God. He was standing outside looking up at the horror of the plane crash igniting the flames in the first struck tower when the second plane crashed. What he described to me I will never forget- and he won't either. He made it out of the city seconds before they closed the bridges. He made it home. Although my son and I were stuck in NJ for two days with no way to get into New York (all of the bridges were closed), we were all safe and God had kept us calm in the face of evil and horrific circumstance. I still replay those images shown from the television newscasts that day. But while my heart prays for those that lost loved ones and friends, it also prays thanksgiving that Joe is alive. Today we have three beautiful sons that are our greatest reward. I am blessed and thankful. But I will never, ever forget....
My project is a scrapbook page to document the ten year anniversary of the events that transpired that day, and how all of our lives were forever changed. I think this is so important, especially as I start a new school year and my students are so young that they don't know what Patriot's Day is or what we are remembering. My children will know because their father was there and they are here because he is still with us.
The paper is Michelle Anderson's PATHWAYS Creative Paper: Americana Stack
Thank you for visiting my blog and allowing me the opportunity to share my memories of this life-altering event. My thoughts and prayers go out to the many families and people who are grieving on this day and have been for the last ten years.